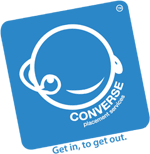 ---
Job Description
Greetings From Converse Hiring Team !!!
Company's Name: Converse Placement Services
Designation: H.R Executive (20 Openings).
Helpline No: 7340000128
Apply To: Conversehrjobs@gmail.com
Shifts: Day Shifts (9 Hour Shift) Sunday Fixed Off.
Package : As Per The Industry Standards.
Qualification: Graduate and Post Graduates.
Responsibilities:
Sourcing Candidates Through Job Portals.
Explaining The Job Profile To Potential candidates.
Screening ,Shortlisting Candidates & Scheduling Interview's via Outgoing Telecommunication.
Driving Hiring Through Alternative Channel Of Sourcing.
Follow Up & Retention.
Interested Candidates Can Directly Walk in @ Converse B-31 Jyoti Marg Bapu Nagar Near Rambagh Circle Jaipur-302015.
All The Best !!!
Converse Hiring Team
KeySkills
BPO,Call Centre,Hiring,Human Resource Management
Functional Area
BPO
Company Description
Founded in 2007, Converse Placement Services is the pioneer of organized recruitment services in India. Over the years, we have acted as preferred recruitment partners to multinationals and leading Indian businesses to emerge as the leading recruitment brand nationally.
Job Overview
---
Offered Salary
Rs.100000 - Rs.200000

Designation
HR Executive-day Shifts Jaipur Location-50 Openings Converse RPO

Industry
BPO / Call Centre
Job Location
---
Leading Employers already using job and talent.
Current Jobs
Medical Coders || Hyderabad, Chennai Location || CTC 4.5 Lacs

Converse Placement Services

Bangalore,Chennai,Hyderabad

Rs.225,000 - Rs.450,000

Hiring-hinduja Global Solution-client Support,noida. 250 Openings

Converse Placement Services

Delhi,Delhi NCR

Rs.200,000 - Rs.250,000

Walk-in Drive - Technical/customer Support Associate - Hyderabad

Converse Placement Services

Hyderabad

Rs.250,000 - Rs.600,000

Wipro Customer Support -kolkata 100 Openings SPOT Offer

Converse Placement Services

kolkata

Rs.125,000 - Rs.225,000

Hiring-ags Hyderabad (semi Voice Process) 500 Openings Spot Offer

Converse Placement Services

Hyderabad

Rs.200,000 - Rs.225,000

Phone Banking Process || 100 Openings || Bangalore Location

Converse Placement Services

Bangalore

Rs.125,000 - Rs.180,000

Process Associate || Day Shifts || Client Service RPO || Jaipur

Converse Placement Services

Jaipur

Rs.150,000 - Rs.300,000

Openings for AR Caller /Sr Ar Analyst/ Gurgaon- 100 Positions

RCM

Delhi,Delhi NCR,Gaziabad,Gurugram,Jaipur,Noida

Rs.200,000 - Rs.450,000

Openings for AR Caller /Sr Ar Analyst/ Hyderabad- 100 Positions

RCM

Hyderabad

Rs.200,000 - Rs.400,000

BACK Office Executive | Cogniza*t Noida | 100 Openings

Cogniza*t

Noida

Rs.150,000 - Rs.175,000

Performance Coach/ Trainer | Day Shifts | Jaipur & Ajmer Location

Converse Placement Services

Ajmer,Jaipur

Rs.200,000 - Rs.325,000

Quality Analyst / Coach | Day Shifts | Jaipur , Ajmer Location

Converse Placement Services

Ajmer,Jaipur

Rs.200,000 - Rs.350,000

.[24]7 is Hiring Be /b.tech & Grads for International chat Process

247

Bangalore

Rs.200,000 - Rs.325,000

TEAM Leader/ ASST Manager | Jaipur | Ajmer | DAY Shifts

Converse Placement Services

Ajmer,Jaipur

Rs.250,000 - Rs.450,000

Client Service Mphasis Pune

Mphasis

Pune

Rs.200,000 - Rs.350,000